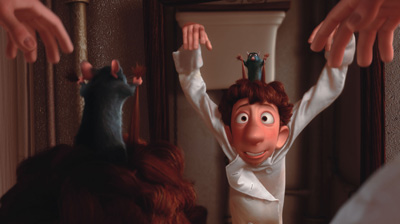 I was fortunate enough this past Saturday to attend the sneak preview screening of Ratatouille. I know it won't actually be released for two more weeks – so I won't give any real information away to spoil it for you. Just know this – go see it.
The visual style is absolutely amazing. The acting is superb. The lighting will astound you. And the fur (especially wet) looks better than Ice Age 2. Theres also a very enjoyable 2D credit sequence at the end (with a totally unique and great style itself). I enjoyed the whole film, and have yet to decide if it is now my favorite PIXAR movie – but it's in the running. The movie is wonderful and you can bet I will be back in the theater again on the 29th.
Also, if you're a true animator (keyframe animation), you'll certainly appreciate a little graphic that scrolls by near the very end of the credits. Even though theres no little scene at the end, I'm still glad I waited for the end of the credits just for that little surprise. I got a kick out of it, and wish I had thought of it.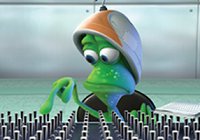 Before the film is PIXAR's new short "Lifted." To be honest, it was good, but it wasn't great. Don't get me wrong – plenty of very talented people brought this to life. The animation was wonderful, the rendering was great, and I laughed a couple times – but overall the story felt like it could have had a bit more.  I was (and am) in love with "One Man Band" and just don't think that "Lifted" surpassed it. (Is it just me, or was the guy who was being "Lifted" look just like Linguini? not that there's anything wrong with that – just something I noticed)